Amy's Closet in Holmen WI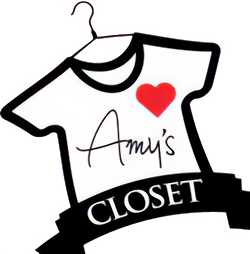 Amy's Closet was started by Dr. Patty Barge in the spring of 2016 when she became aware of the conditions that foster children and families are faced with.  There is often a need for clothing and personal items when children switch homes or are sent to foster care.  Many of their belongings are lost in transition and it is hard for foster parents to continuously supply the children with new stuff.  Dr. Patty started Amy's Closet in Holmen WI with the hope of helping these families in our community.  She quickly realized that there was a much bigger need than she thought.  Not only were foster kids and families in need, but so were the schools, homeless children, local shelters, families facing emergent situations, and other local closets.
---
A Resource For Our Community in Holmen WI
Amy's Closet exploded into a resource for our community to help others. Gently used and new clothing items are donated by community members and distributed to those in need, all for free.  Requests and specific needs are sent to amyscloset4@gmail.com or through Facebook messenger on Amy's Closet Facebook page.   The needs are posted on Facebook and usually fulfilled at Amy's Closet in a day or two.  Community members will look through their closets and homes or run to the stores and purchase new items to drop off at Amy's Closet to meet the requests.  The way our community works together to help others is something that Dr. Patty never imagined when she started Amy's Closet.  It has been wonderful.  Dr. Patty and Dr. Angela work to collect and sort all the donations that come into the closet and get them ready to be picked up by community members or taken to local shelters and closets by Dr. Amanda.  We have a group of volunteers that help to sort clothing and keep things organized by size.
Amy's closet is located at Barge Berkley Chiropractic Clinic in Holmen WI.  Drop-offs and pick-ups can be made at both the Holmen and the La Crosse offices.  Office hours can be found on the website or Facebook pages.   Follow the Amy's Closet page for updates and needs in our community.
OFFICE HOURS
---
Monday
7:00am - 6:00pm
---
Tuesday
7:00am - 4:00pm
---
Wednesday
7:00am - 6:00pm
---
Thursday
8:00am - 5:00pm
---
Friday
7:00am - 2:00pm
---
Saturday
8:00am - 11:00am
---
Sunday
Closed
OFFICE HOURS
---
Monday
8:00am - 5:30pm
---
Tuesday
8:00am - 1:30pm
---
Wednesday
8:00am - 6:30pm
---
Thursday
Closed
---
Friday
8:00am - 6:30pm
---
Saturday
8:00am - 11:30am
---
Sunday
Closed